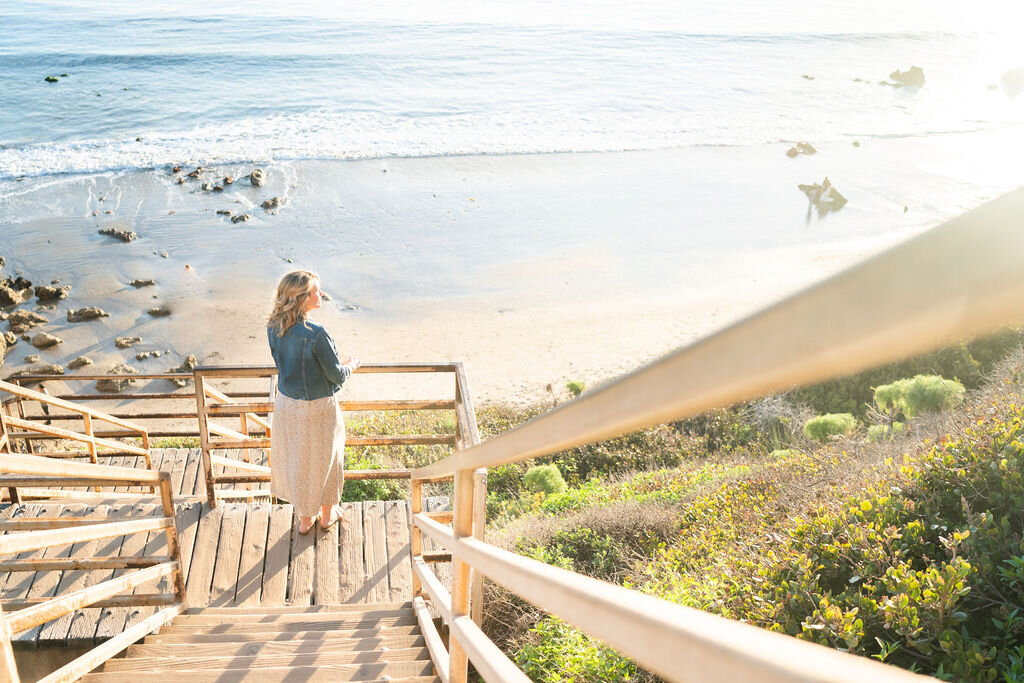 Through big life changes and unforeseen circumstances, many of us tend to remain in reaction mode. But, we have the power to respond more intentionally, no matter what life hands us. I'm guessing if we sat down to chat, you could tell me a few areas of your life or business that you'd like to improve.
And having goals and striving for more is a great first step. A vision.
But then what?
You might be asking: How do I take myself out of the constant feeling of 'one day' or 'some day'?
That feeling is one of 'not enough' and I find is often rooted in my fear. If I follow that trail of thought it usually cozies up with doubt, and maybe even some anxiety.
You have the ability to create the reality that you want in life. First, start with gratitude for everything you do have. If you're reading this, with a roof over your head and a business, or the dream of a business, you have lots to be grateful for. Start there and notice your energy shift.
Then spend some time imagining what it will feel like when you have achieved your goal! How will you celebrate? I believe the Universe is interactive, and that when we use our imagination and align our vision with our actions, we can speed up the process of achieving our goals and dreams.
"WHEN WE ARE ALIGNED WITH OUR POTENTIAL, OUR WORTHINESS, AND OUR DESIRES, WE CREATE THE REALITY WE WANT." – AINE ROCK
Put an intention out into the universe. Out into your world. Work on managing your own energy. Every thought you have creates an emotion. And, every emotion creates an energy in your body.
Manage your thoughts and you will manage your mind. Manage your mind and you will manage your energy. Manage the energy in your body and you will change your vibration. Change your vibration and attract more good things and good outcomes into your life.
But, recognize that we are not in control of the outcome. Life is unpredictable. The past 18 months, COVID-19 has taught us that on a heightened scale. It is inevitable that we will feel fear, anticipation or worry in our lives. Fortunately, we have the power and ability to shift our focus and energies. BY surrendering even deeper and letting go, we are able to focus on what matters.
"WE ARE MUCH MORE POWERFUL THAN WHEN WE ARE JUST IN REACTION MODE."
I have been working heavily on creating a toolbox of daily practices required to manage the energy in my life. I hope to share those tools and strategies with you. And, hope that they are as effective for you as they have been for me.
AN EXPERIMENT: FEEL YOUR ENERGY SHIFT
Allow yourself a few moments of meditation; a few moments of quiet. Focus on a negative thought. Pay attention to how it affects you physically. Then, do the same, but focus on a positive thought.
Where do you feel the energy? How does the energy present itself? This energy has a physical manifestation. Bring awareness to the feeling of the energy so that you can effectively shift it.
And, when you feel these physical manifestations throughout your day, follow the trail of the energy back to the thoughts. What are you thinking? How are you creating your own reality?
YOUR TOOLBOX
When the stakes are high, when there are more elements of a situation that are out of your control, go to the space of managing thoughts and energy.
Daily practices: meditation and breathwork to bring awareness and manage your energy and mindset.
Changing the "what ifs" to the "and whens" (for more on this, listen to Episode 65 of the Rock Your Joy podcast).
Believe that it will all workout in the end. You may not get the outcome you have planned, but trust and believe that you will get the best outcome.
---
Overall, many of us go through life simply reacting to the situations that are thrust upon us. But, it is possible to manage your energy, attract good outcomes, and create the reality that you desire. Listen to Aine speak to her experience with the Law of Attraction on the Rock Your Joy podcast.